Hour counter for Z-, ZE-drive (Reed-contact)
Infeed extension with roller, 39.37 in


Check Our Our Other Brands!




Split cutter with WIDIA circular saw
The split cutter SpaltFix S-360 cuts and splits logs up to Ø 13.78 inches in 2, 4, 6 or 8 parts in one work cycle. The
cutting length can be adjusted from 20 to 50 cm. The hydraulic timber feed transports the timber to the circular saw
blade via the conveyor belt. Thanks to the feed belt inclined to the rear, the cutting cycle is ideally adapted to the
log diameter, which enables maximum performance with small diameters as well. The hydraulic log down holder
and the adjustable log stop that lifts during cutting prevent logs from getting stuck. It is easy to operate with a one-
hand joystick control. The finished billets are directly transported to loading via an angled conveyor belt. Only Cut
system: As standard, the splitting knife and the splitting knife support can be removed in only a few steps, and so
the SpaltFix S-360 can be used as high-performance saw without splitting tool.


•
Log diameter up to 13.78 in
•
Splitting power 12 t with Autospeed
•
WIDIA circular saw blade Ø 35.43 in
•
8 billets of a length of up to 19.69 in per work
cycle
•
Splitting knife for 4 parts (standard)
•
Hydraulic timber feed with 6.5 ft-long
conveyor belt and optional log conveyor
system
•
Hydraulic saw advance with automatic stop
lifting and automatic downholding function
•
Three-point linkage cat. II



SpaltFix S-360 Parts and Options
Note: All measurements were converted from Metric into
Imperial/English units of measurements. Therefore most
measurements are an approximation.
SpaltFix S-360 Drive Type
Tractor, power consumption 27 kW, oil pump with capacity 66/140 l/min at 480 rpm
Angled conveyor belt length 13 ft, hydraulic drive, max. ejection height 8 ft
Diesel engine Hatz 3L41C, Pressure switch-off pump
Hydraulic chain conveyor 2
Hydraulic roller conveyor 3
Hydraulic chain conveyor 3
Hydraulic roller conveyor 4


Surcharge for angled conveyor belt length 16.4 ft, hydraulic drive, max. ejection height 10 ft
Hydraulic chain conveyor 4
Splitting knife for 6 parts (for log Ø 3.94–13.78 in)
Splitting knife for 8 parts (for log Ø 6.7–11.8 in)
Cross conveyor 10 ft – 10 × 7 ft for roller conveyor 4
Cross conveyor 10 ft – 10 × 10.5 ft for roller conveyor 4
Cross conveyor 10 ft – 10 × 13.8 ft for roller conveyor 4
Additional hydraulic connection – for M3857 SpaltFix S-360 with tractor drive –15 l/min–max.180 bar.
Comprising: 3-way hydraulic pump, hydraulic valve, size 2 quick-connects. Oil cooler: Voltage supply
(12V) from tractor required.
Oil cooler, recommended for continuous operation of the machine over 4 hours. With Z-drive, 12V
voltage supply from tractor required
Saw control for automatic monitoring of the saw blade rotational speed to avoid power peaks and/or
overload of the saw, incl. hour counter. Voltage supply (12V) from tractor required
Service kit (1,000 h): Set of footrests and filter element
Chip extraction connection Ø 3.94 in
Chip extraction connection Ø 5.91 in
Chain conveyor 6.5 ft + cross conveyor 7 ft
Chain conveyor 6.5 ft + cross conveyor 10.5 ft
Chain conveyor 6.5 ft + cross conveyor 10.5 ft
Installation of the cross conveyor on the operator's
side
Chain conveyor 6.5 ft + cross conveyor 13.8 ft
Chain conveyor 6.5 ft + cross conveyor 7 ft
Chain conveyor 6.5 ft + cross conveyor 13.8 ft
Chain conveyor 10 ft + cross conveyor 10.5 ft
Chain conveyor 10 ft + cross conveyor 7 ft
Chain conveyor 10 ft + cross conveyor 13.8 ft
Chain conveyor 13 ft + cross conveyor 13.8 ft
Chain conveyor 13 ft + cross conveyor 10.5 ft
Chain conveyor 13 ft + cross conveyor 7 ft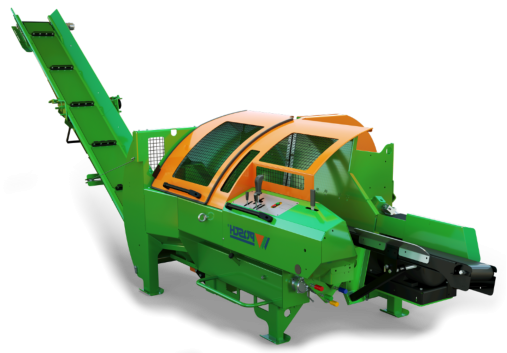 • Tractor
• 22 kW E-motor 400V, S6, CEE 32A, pressure switch-off pump
Reduced price for single-part ejector belt 5 ft,hydraulic drive, max. ejection height 3 ft
Splitting knife for 4 parts (for log Ø 0–13.78 in)
Log support with lifting device for max. 78.74 in timber length and Ø 11.8 in
Walterscheid W-Line universal joint shaft for transverse tractor chassis DT
Copyright © 2016 Northeast Implement