Check Our Our Other Brands!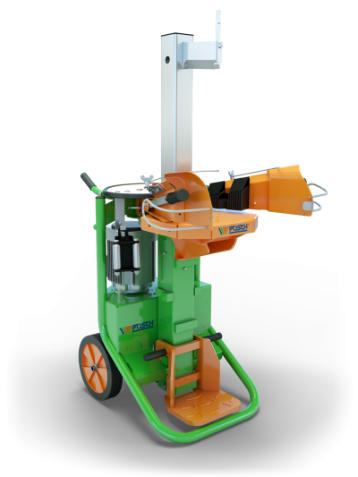 When producing firewood for your personal use or
producing medium volumes, you need a timber splitter that is
compact and robust and does its job for a reasonable price. The
SpaltAxt is such a trusty piece of equipment that deals with all
tasks.
•
9,3 T Splitting power max.
•
280 lbs Weight min.
•
3.15| 18.11 in/s Splitting speed | Return speed max.
Split wood everywhere with the SpaltAxt
The SpaltAxt is the ideal unit for medium volumes of firewood. The sturdy and durable short-timber splitter for all applications
produces firewood for the whole winter in a short period of time. With the large solid rubber wheels or the three-point linkage, it can
easily be transported to the work site. Despite its compact design, it fulfills all requirements of private households and farms and
demonstrates its great power during use. Geared to your individual needs, the SpaltAxt is available with different drive types and
designs that enable you to split timber quickly and effortlessly. The timber retaining tip and the 2-hand safety switch ensure a smooth
process that can be carried out by everybody without risk and effort.
Fast, safe and convenient splitting for every log length
The SpaltAxt Special splits short logs just as metre-long logs (optionally up to 51.18 in) and ensures a high working speed with its
tried-and-tested technology. The low-noise hydraulic system works smoothly during continuous operation as well, the push-on
splitting knife with rollers (from SpaltAxt 8 onwards) ensures a faster splitting process. The timber springs open quickly, the rollers
prevent the billets from jamming during the return movement. The splitting power of up to 9.3 t enables the effortless, occasional
splitting of metre-long logs as well. The splitting table can be put in the right position for different log lengths.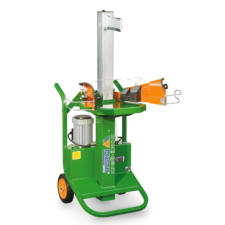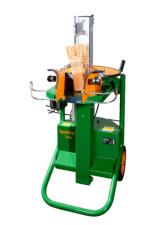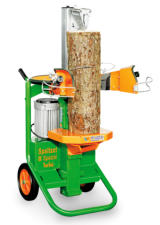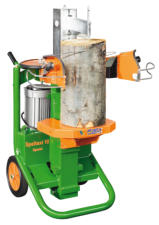 Outstandingly smooth running and low-noise design
The turbo model (from SpaltAxt 8) is a high-performance splitter with maximum speed. You do not only profit from a higher
splitting speed and return movement speed, but also an extraordinary running smoothness. You will come to appreciate the quiet mode
of operation immediately when you hear your SpaltAxt glide through the wood quietly and vigorously and when it can be used again
afterwards as soon as possible. Assure yourself personally of the excellent running smoothness and the low noise level of the SpaltAxt
Turbo.
Useful accessory equipment for every SpaltAxt
The large timber support table enables more user-friendly working with a larger support area. The wheel set of pneumatic-tired
wheels and the three-point linkage for transportation with a tractor make transportation easier. In addition, you can get your SpaltAxt
Special ready for particularly long logs with the optional base plate.
•
With the height-adjustable splitting table, you can also split meter-long logs with the SpaltAxt Special. The base plate for SpaltAxt
10 Special is suited for log lengths up to 51.18 in.
•
The push-on splitting knife with rollers does the job fast and without compromises.
•
The three-point linkage (also available for E-machines) gets your SpaltAxt ready for every task.

Copyright © 2016 Northeast Implement